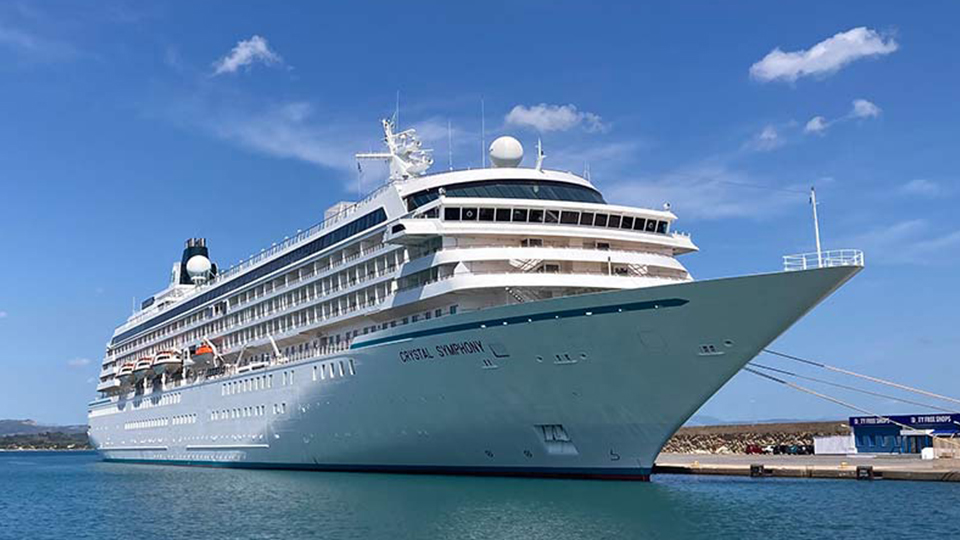 The newly-reengined Crystal Symphony purred into Athens last Friday morning, Sept. 1, to disembark the last preview-cruise guests.
Those coming aboard were the first revenue passengers since the 1995-built ship's extensive refurbishment under its new owner, A&K Travel Group.
Replacing the engines and much of the rest of the maritime departments on the Symphony and the Serenity was a more-than $50 million surprise expense, said A&K CEO Cristina Levis.
Bought from the bankrupt Genting Hong Kong, below deck systems suffered from poor maintenance.
Many passenger-facing areas also desperately needed updating, she said.
"I walked into the Italian restaurant and I said, 'Oh my god, how can you call this an Italian restaurant,'" Levis said over breakfast in the Symphony's stylish new Waterside Restaurant. "It was a cliche of an Italian restaurant with the Roman columns, the grapes everywhere, the paintings of Venice. It was just awful."
The new Italian restaurant, Osteria d'Ovidio, named for A&K co-owner Manfredi Lefebvre d'Ovidio, is elegant, sleek but comfortable, with elevated modern cuisine.
Preparations for the inaugural cruise were still underway as preview-guests purused the Symphony. Phone systems were still buggy but not for a lack of trying by the information technology team. Levis said the IT crew averaged just 3.2 hours of sleep a night over a 10 day stretch leading up to the inaugural cruise.
A single piece of equipment to enable the phone system, ordered more than six months ago, had been delayed multiple times. It was scheduled to be installed just hours before revenue guests boarded the ship.
"A lot of work is still going on with the TVs and to connect the phones," Levis said. "I know we're not yet perfect, although we aim for perfection. In 12 months, in 16 months, you cannot achieve perfection. But I can guarantee you the team has been working around the clock. And when I say around the clock I mean around the clock."
Another surprise came two days into the preview cruise. Leaving Fincantieri in Trieste, Levis had expected Port State Control inspectors in Venice. When they didn't show up, she thought maybe they'd be at the turnaround port in Athens. But at dinner in Dubrovnik, she got a note congratulating her on passing inspection with only three minor notations from the agents.
"Which is nothing for a ship that has been out of water for 18 months," Levis said. "I said to my team, you didn't even tell me Port State Control was onboard. They said: 'Everything was fine. There was no need to tell you anything.' So I said, OK."
Captain Tonci Hladilo, a native of Dubrovnik, was at the helm for his first assignment as master. While he acknowledged the improvements from Deck 4 down, he was most excited about the passenger-facing areas.
"It's the rooms," Hladilo said with his omni-present smile.
The vast accommodation redesign brought the Symphony's capacity down from a high of 960 to 606 — with two, three, and sometimes four staterooms combined into suites with walk-in closets, sitting areas, and in the case of the penthouse suites, impressive opulence.
PUBLISHED ON: https://cruiseindustrynews.com