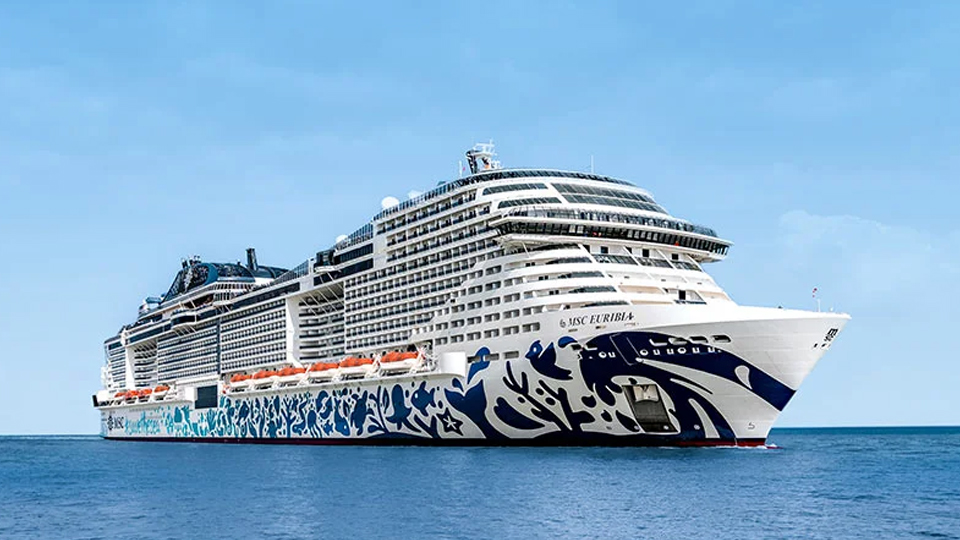 MSC Cruises has shared details of the world's first net zero greenhouse gas (GHG) emissions cruise operated in June by its newest ship, the LNG-powered MSC Euribia.
The four-day voyage from Saint-Nazaire in France to Copenhagen in Denmark resulted in a saving of 43 tons of fuel, the company said, and enabled the ship to perform 11 percent better than the vessel's digital twin – an ashore virtual ship that reproduced the optimum energy flow and mirrored the fuel utilization onboard.
This was thanks to various optimization and energy efficiency measures, including optimal speed profiles, routing, trim and engine configuration and strict management of the hotel`s energy consumption, according to a press release.
All the required heat for galleys, heating and ventilation systems as well as production of hot water onboard was recovered from the ship's engines, which eliminated the need to use the boilers during the voyage.
The ship used bio-LNG as a fuel, which is the most cost-effective and environmentally friendly method recognized under the European Union's Renewable Energy Directive known as RED II.  Each batch of bio-LNG produced was certified by the International Sustainability and Carbon Certification.
Linden Coppell, vice president of sustainability and ESG at MSC Cruises, said: "The MSC Euribia's pioneering voyage was a significant achievement and proved that net zero GHG emissions cruising is possible today and well ahead of the 2050 target for the industry.  We are eager for the appropriate regulatory and financial incentives for fuel producers to provide the fuels needed, at the scale that is needed, which, alongside technology, will power the industry's journey towards decarbonization."
MSC Cruises said they will use the data collected during MSC Euribia's net zero emissions sailing to drive down further the emissions intensity across the fleet.
PUBLISHED ON: https://cruiseindustrynews.com