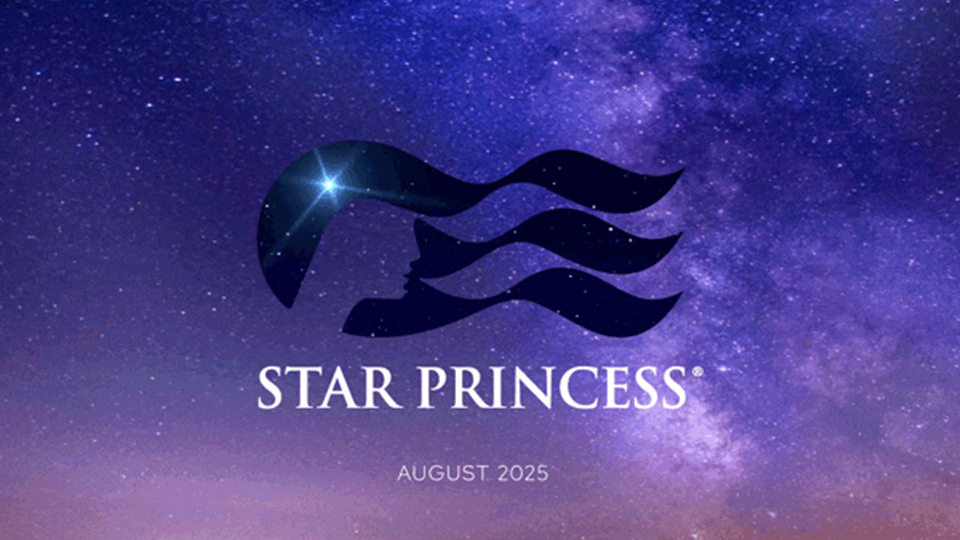 Princess® is pleased to announce their second Sphere class ship – the new Star Princess®, scheduled to join the fleet for her inaugural 2025 season in the Mediterranean, where she'll sail along with sister ship Sun Princess®, bringing next-level innovation to the Mediterranean seas for Princess Cruise's 40th anniversary in the region.
The 2025 Northern Europe season will go on sale to Elite guests on 24 May and general sale on 25 May for all British Isles and Northern Europe voyages.
The 2025 Mediterranean program will go on sale to Elite guests on 31 May and General sale on 1 June, in what promises to be on one of Princess Cruise's most exciting seasons ever!
The Star of the Show
Currently under construction, Star Princess joins Sun Princess as the largest ships ever built for Princess at 175,500 tons and carrying 4,300 guests with more than 1,500 balconies and 29 restaurants and bars and 21 decks. Debuting 4 August 2025 in the Mediterranean, she shares the same ground breaking venue designs as Sun Princess, including The Dome, a cutting-edge top-deck entertainment space inspired by the tiered cliffs of Santorini, a next-level Piazza featuring a glass sphere and a 'see it to believe it' Princess Arena, that allows Princess to introduce innovative entertainment concepts. The ship will also usher a variety of new food and beverage concepts.
2025 Europe Season Highlights

2 Sphere Class Ships sailing in the Mediterranean region (Sun Princess® & Star Princess®) along with Majestic, Princess® – combining a total of 3 ships for guests to choose from in the Mediterranean
Departures from Barcelona, Rome, Athens as well as London, where guests can visit iconic destinations such as Florence, Naples, Santorini, and Istanbul
The brand-new ship, Star Princess, will sail a variety of 9- and 10-night voyages departing from Rome, Athens, Barcelona or Trieste (Venice), combinable for an adventure of up to 20 days
Regal Princess® will sail a season of British Isle cruises, while Sky and Emerald Princess®, will also sail out of London, where they will embark on sailings to Iceland, Norway and Scandinavia
Emerald Princess sails many voyages throughout Europe, including above the Arctic Circle on her Search for the Northern Lights voyage, and two voyages visiting both Greenland & Iceland, sailing roundtrip from Southampton (London)- Six ships sail Transatlantics for the ultimate ocean voyage between Fort Lauderdale, Boston, or Galveston and Barcelona, Southampton (London) or Rome
Sky Princess sails roundtrip from Southampton (London) on a variety of voyages from 5 to 15 days featuring Iceland & Norway, the Canary Islands and a new 31-day Mediterranean Marvel itinerary trekking across the Mediterranean